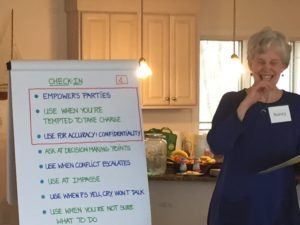 Intensive Mediation Skills Training- 4 Days
Learn Proven Strategies for Managing Personal and Organizational Conflict
This training is designed for those who want to learn the general practice of mediation. It examines the procedures, skills and strategies used by mediators.  The training is highly interactive and is approved by the Massachusetts Bar Association.  It is the first step required to enter the field of mediation.
Incorporate new skills at work.
Gain valuable life skills.
Learn through roleplays, exercises and lectures.
Experience the steps of the mediation process.
Receive a mediator skills 'Tool Kit' take-away material.
Add link to register for training